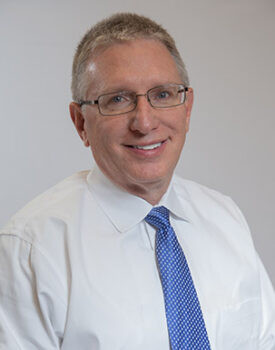 Read Transcript
I'm from this area. I originally grew up in Fort Thomas, and I like to come back here, where it's my hometown, basically.
I really enjoy watching the patients smile after we've treated them, gotten rid of their problems, whatever they may be. I enjoy the problem-solving aspect, being able to restore their smiles, restore their function, all those aspects that they do, and then how they appreciate things after we're all finished.
I went to undergraduate school with Eastern Kentucky University. Then I went to University of Louisville dental school, and every year, I take multiple courses, especially lately, functioning on dental implants, so I've taken 40, 50, 100 hours in the past year or two just on dental implants themselves, trying to learn how to restore patients so they can function, bite, chew again.
Taking these continuing education courses really helps. It gives you all the latest technology issues, the latest – how we can save the patients time, money, the best techniques to use. Really, the best thing for the patients. That's why we do it.
Dr. Theiss enjoys being a part of transforming patients' lives by creating smiles they are proud to show off. He works at being the best dentist in Highland Heights, Northern Kentucky, and the Greater Cincinnati area so that he can by educating patients on their dental health and treating each individual with optimal care. Like our entire team, he is dedicated to providing outstanding dentistry in a friendly environment.
A graduate of Highlands High School, Dr. Theiss attended Eastern Kentucky University, where he earned a Bachelor of Science degree in biology. He then graduated from the University of Louisville School of Dentistry with his Doctorate of Dental Medicine. Because he feels it is his responsibility to stay current with advances in dentistry, Dr. Theiss spends many hours on continuing education every year.
His professional affiliations include:
American Dental Association
Kentucky Dental Association
Northern Kentucky Dental Society
Cincinnati Dental Society
Dr. Theiss has been married to his wonderful wife, Peggy, for 38 years. They have four children: Matthew, Ryan, twins Caleb and Sarah, and two daughters-in-law, Caitlin and Allie. They also have six precious grandchildren: Lexi, Jackson, James, Johnny, Mary, and Quinnlyn.
A caring husband, father, and grandfather, Dr. Theiss enjoys spending family time with his children and grandchildren. They enjoy hikes in the woods and fossil hunting in the creek. Dr. Theiss enjoys the hunt whether it is fossils, shells, or his newest hobby, hunting for "treasures" with his metal detector. He also makes regular trips to the gym to stay fit and enjoys travel when he is able to get away.